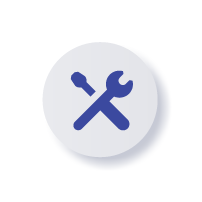 Engineering services
Having its own in-house engineering capabilities is one of the biggest competitive advantages. Applying the expertise gained from maintaining our network of temperature-controlled warehouses—Japan's largest—our engineering services are responding to the needs of clients through three main services: engineering, maintenance, and equipment diagnosis.
Total support for temperature-controlled warehouses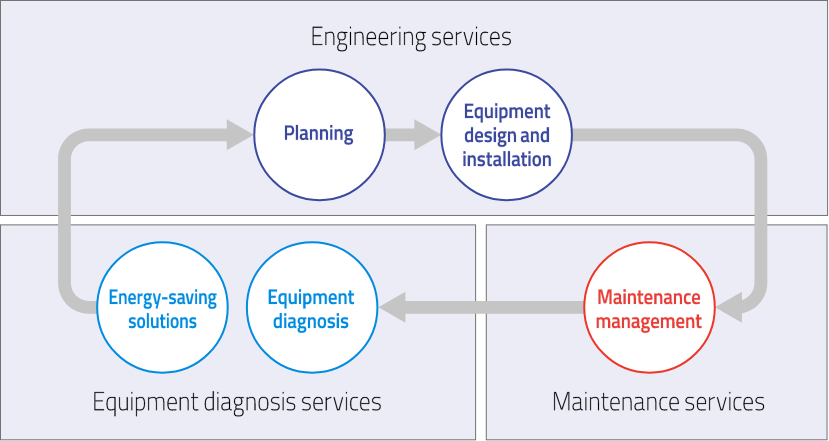 Engineering services
From planning to equipment design and installation, we provide services customized to the needs of clients, utilizing advanced technologies and extensive expertise gained at our temperature-controlled warehouses.
Planning

We propose the construction and renovation of temperature-controlled warehouses, incorporating plans for restricted access security systems for better food safety, as well as energy-saving, long-lasting LED lighting that can be used under low-temperature conditions.

Equipment design and installation

We handle everything from the design of new buildings and building extensions, to construction and project management. Using our own high-efficiency systems, we help clients save energy and improve conditions inside their storage facilities.
Maintenance management
With their extensive experience in temperature-controlled facility maintenance, our experts can handle all aspects of maintenance management for any type of manufacturer.
Equipment diagnosis

We help extend the service life of facilities and even cut maintenance costs by conducting prior assessments of potential equipment breakdowns according to fixed maintenance periods, and by finding decreases in operational performance at an early stage.
Equipment diagnosis services
To maintain temperature-controlled facilities and save energy, it is essential to systematically upgrade equipment. Also necessary is the early detection of problems, such as frost heaving, condensation, and the deterioration of heat proofing. Our experts provide services optimized for each customer, including comprehensive equipment diagnosis and monitoring of their temperature-controlled facilities.
Equipment diagnosis

Our diagnostics cover the overall operation of facilities, and are conducted by personnel who specialize in temperature-controlled warehouses and their construction, based on extensive experience in maintaining Nichirei Logistics Group's equipment. Services include comprehensive diagnostics and monitoring of temperature-controlled facilities, optimized maintenance, and proposals for maintenance investment plans.

Comprehensive falicity diagnosis report

Energy-saving solutions

We help prevent energy loss at facilities by installing infrared cameras to accurately detect heat -proofing-related and damp-proofing-related defects that otherwise are difficult to verify.