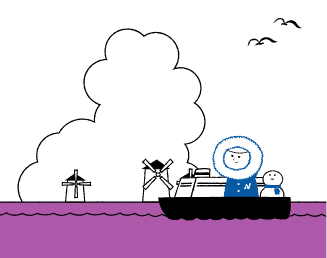 Expanding beyond Japan to
meetneeds in Europe and Asia
Making the most of the expertise we have built up in Japan over the years, we offer temperature-controlled logistics services abroad. Having expanded our businessfirst to Europe and then in Asia, Nishirei Logistics Group is taking Japanese standards of quality to the international stage.
Overseas business
In 1988, we started temperature-controlled logistics services in Europe after having acquired a Dutch temperature-controlled warehouse operator. Business then expanded to Germany, Poland, France and, in 2014, to the United Kingdom.
In Asia, we began operating in China in 2004, and in Thailand in 2013 and in Malaysia in 2018.
At present, we operate a total of 42 temperature-controlled logistics facilities and offices in 12 countries worldwide.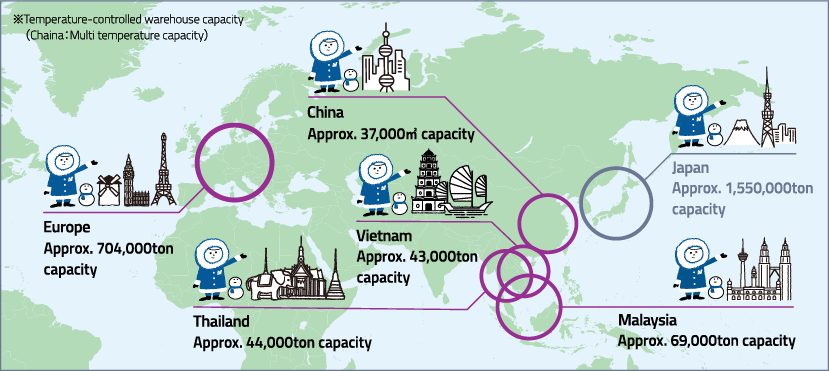 Business in Europe
Group companies in Europe provide comprehensive logistics services such as customs clearance, drayage, storage, and transportation. Based mainly in the Port of Rotterdam, Europe's largest port, the companies use cross-border transportation capabilities covering the entire Continent and temperature-controlled warehouses with a combined capacity of about 500,000 tons.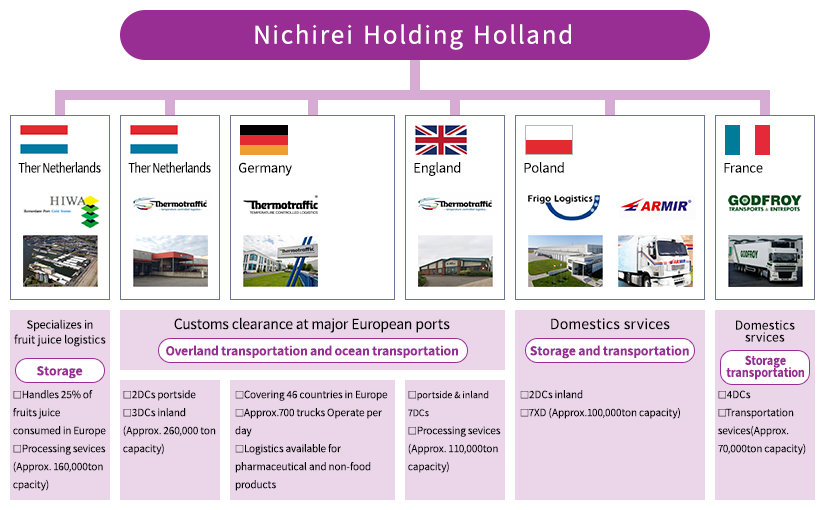 Temperature-controlled logistics network all over Europe
We provide borderless temperature-controlled logistics services such as warehousing, transportation, ocean transportation, drayage, and customs clearance at major ports in Europe.

Temperature-controlled warehouse at major ports, combined with customs clearance and transportation network, realize borderless temperature-controlled logistics services.
Business in China
Shanghai Fresh Line Express offers temperature-controlled logistics services for frozen, chilled and ambient cargo in Shanghai.

Overview of facilities
Capacity: 5,200 tons for frozen storage, and 6,459m² for ambient storage
Transportation:operating 60 trucks per day
Competitive advantages
Shanghai Fresh Line Express is located in southwestern Shanghai, which allows excellent access to central Shanghai and adjacent cities. The company offers one-stop services by combining its storage services—for frozen, chilled and ambient cargo—and transportation services. By operating around the clock year round, the company can offer logistics services for retailers and restaurants that frequently need goods in small batch. Since the company owns its trucks, it can meet requests for transportation to adjacent Shanghai areas, as well as to other major cities across the country.
Business in ASEAN
The joint venture company SCG Nichirei Logistics provides Japanese-quality service and functions as our ASEAN hub.

Overview of facilities
Capacity:47,460 tons
Storage and transportation services
Thailand official export establishment certificate
Competitive advantages
Located in the Bang Na district of Bangkok, SCG Nichirei Logistics has excellent access to the rest of the city and Laem Chabang Port, the biggest in Thailand. The company uses facilities of the same standard as found in Japan, including mobile racks, positive pressure equipment, and cool-temperature-control systems that use natural refrigerants (ammonia and carbon dioxide). Owning its transportation trucks, SCG Nichirei Logistics offers high-quality services via its temperature-controlled warehouse and transportation management center, the latter of which has systems that monitor the location and temperature of trucks around the clock.
Business in ASEAN (Malaysia)
Malaysia is one of the leading growth markets in the region, with strong domestic consumption in ASEAN. Japan's unique know-how has been introduced to meet the increasing storage demand accompanying the recent expansion of consumption.

Overview of facilities
Capacity:40,967 tons
Storage and transportation services
Acquired halal certification ("JAKIM"MS2400-1:2010・MS2400-2:2010)
Competitive advantages
NLCCN is located in the Puchong district giving easy access to both Port Klang, Malaysia's largest port in import and export volume, and the capital city of Kuala Lumpur, Utilizing a storage capacity of over 40,000 tons.
NLCCN provides detailed logistics services using cross-dock (XD) type centers located in Penang and Johor.
As one of the largest low-temperature halal logistics specialists, NLCCN not only contributes to halal logistics in and outside the region, but also undertakes the international transport of halal goods.