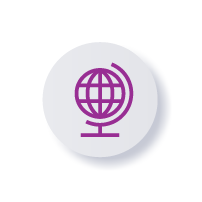 Overseas business
In 1988, we started temperature-controlled logistics services in Europe after having acquired a Dutch temperature-controlled warehouse operator. Business then expanded to Germany, Poland, France and, in 2014, to the United Kingdom.
In Asia, we began operating in China in 2004, and in Thailand in 2013 and in Malaysia in 2018 and in Vietnam in 2023.
At present, we operate a total of 42 temperature-controlled logistics facilities and offices in 12 countries worldwide.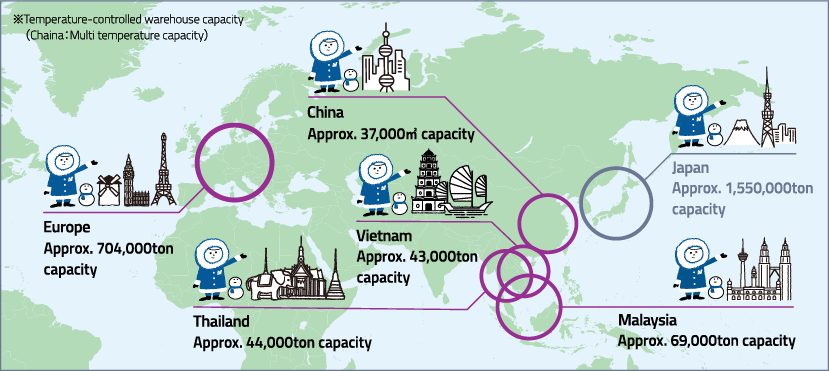 Business in Europe
Group companies in Europe provide comprehensive logistics services such as customs clearance, drayage, storage, and transportation. Based mainly in the Port of Rotterdam, Europe's largest port, the companies use cross-border transportation capabilities covering the entire Continent and temperature-controlled warehouses with a combined capacity of about 700,000 tons.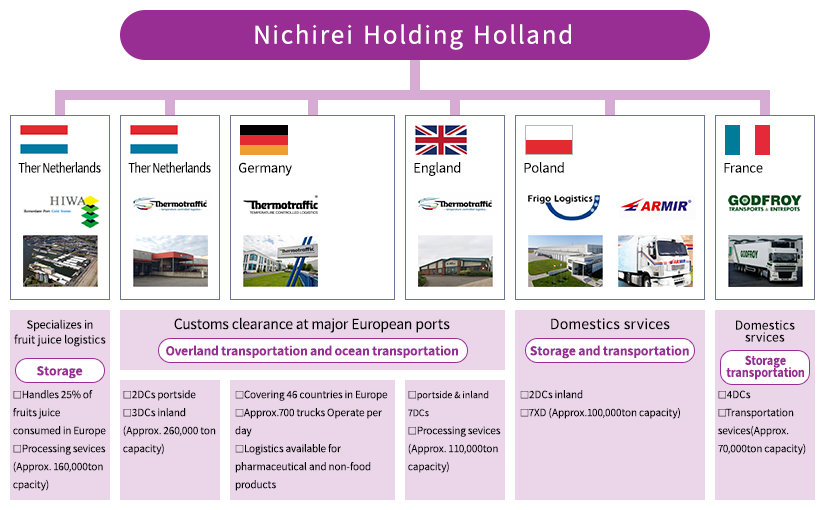 Temperature-controlled logistics network all over Europe
We provide borderless temperature-controlled logistics services such as warehousing, transportation, ocean transportation, drayage, and customs clearance at major ports in Europe.

Temperature-controlled warehouse at major ports, combined with customs clearance and transportation network, realize borderless temperature-controlled logistics services.
Business in China
We provide temperature controlled logistics for various goods with 3 temperature zones(frozen, chilled and ambient) in China, mainly in Shanghai area.
上海鮮冷儲運有限公司
上海鮮栄運物流有限公司
江蘇鮮華物流有限公司
南京鮮華物流有限公司
Overview of facillities
Capacity: 10,000 tons for frozen storage, and 6,459m² for ambient storage
Transportation:operating 300 trucks per day
Competitive advantages
With seven facilities in eastern China such as Shanghai, Jiangsu and Zhejiang, we provide a one-stop service with three functions - storage, transportation and delivery-in three temperature zones. As customers such as retailers and restaurants frequently require small lot deliveries, we can arrange various operations - delivery on time, open 24 hours a day, 365 days a year. In terms of transportation and delivery, we also respond to delivery needs from the East china to major cities nationwide. In addition, as logistics consulting business, we also provide not only the consultation for warehouse design and warehouse human resource development, but also the system support includingWMS (warehouse management system) provision.
Business in ASEAN
The joint venture company SCG Nichirei Logistics provides Japanese-quality service and functions as our ASEAN hub.

Overview of facilities
Capacity:47,000 tons
Storage, transportation and delivery, quick freezing, thawing, and distribution processing in three temperature zones
Obtained certification as a designated facility for poultry meat, etc. from Thai government agency (EST No.257), BRC, GHP
Competitive advantages
Located in the Bang Na district of Bangkok, SCG Nichirei Logistics has excellent access to the rest of the city and Laem Chabang Port, the biggest in Thailand. The company uses facilities of the same standard as found in Japan, including mobile racks, positive pressure equipment, and cool-temperature-control systems that use natural refrigerants (ammonia and carbon dioxide). Owning its transportation trucks, SCG Nichirei Logistics offers high-quality services via its temperature-controlled warehouse and transportation management center, the latter of which has systems that monitor the location and temperature of trucks around the clock.
Business in ASEAN (Malaysia)
Malaysia is one of the leading growth markets in the region, with strong domestic consumption in ASEAN. Japan's unique know-how has been introduced to meet the increasing storage demand accompanying the recent expansion of consumption.

Overview of facilities
NL COLD CHAIN NETWORK (M) SDN. BHD.
Capacity:21,230PL (41,000 tons)
Four temperature zone storage
Acquired halal certification ("JAKIM"MS2400-1:2010・MS2400-2:2010)
NL Litt Tatt Group Sdn.Bhd.
Capacity:11,215PL (21,300 tons)
Four temperature zone storage and transportation services
Competitive advantages
NLCCN and NL Litt Tatt have seven warehouses in total including XD centers , perfectly located near not only Port Klang, the largest port in Malaysia, but also Kuala Lumpur and major cities from north to south.
In addition, we provide finely-tuned temperature-controlled logistics services with about 200 own trucks, both in Malaysia and its neighboring countries. NLCCN contributes to halal logistics inside and outside the region as one of the largest temperature-controlled halal logistics companies in Malaysia. NL Litt Tatt has strengths in delivery functions using its own trucks. We provide integrated storage and transportation services by making good use of the characteristics of both companies.