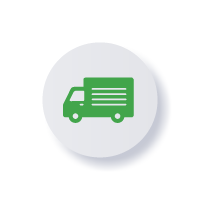 Transportation services
Every day, about 7,000 of our trucks transport items all over Japan via its comprehensive network of temperature-controlled facilities and DCs. With strict control standards set for trucks and their operators, safe and high-quality temperature-controlled logistics services are ensured across all our operations.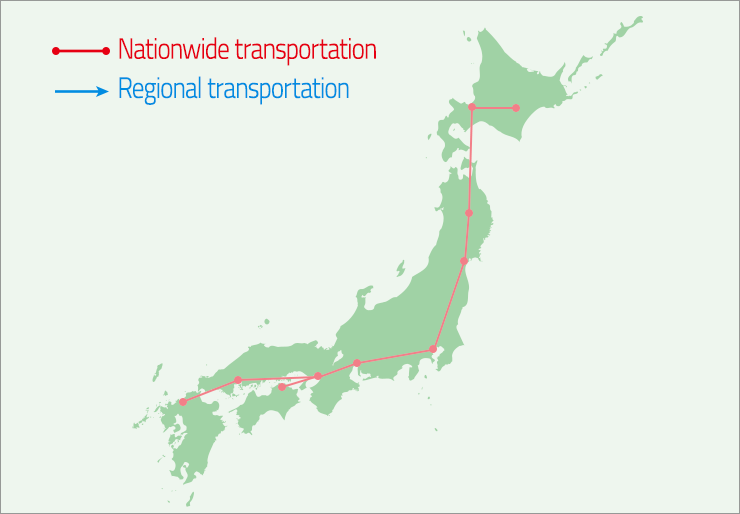 Nationwide transportation
Cargo is transported to different parts of the country using large trucks, with dispatch control centers providing the centralized management necessary to ensure that deliveries are made efficiently.
Combined with its regional system, our nationwide distribution service ensures that goods ordered from producers reach their destinations at optimally controlled temperatures.
Regional transportation
Cargo is transported to regional parts of the country from major cities. Transportation conditions reflect requests for frequent deliveries and/or small batches of products by making the most of our stable supply of trucks and extensive transportation network. Our regional and nationwide transportation services ensure that goods reach their respective destinations as required.
Cooperative transportation services: the benefits
By providing transportation for a variety of clients, we are able to maintain a dependable distribution system while cutting down costs.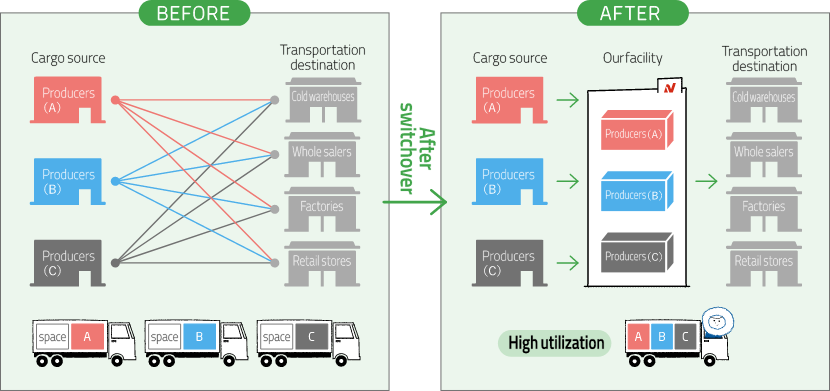 【1】Efficiency
Costs are reduced by combined transportation.
A dependable distribution system is maintained through a common platform.
Cargo unloading is optimized at transportation destinations.
【2】Environment-friendly approach
Fewer transportation trucks in operation results in lower CO2 emissions.
Traffic congestion is reduced by cooperative transportation.
Fewer idling delivery trucks results in less noise.
Real transportation
This is a delivery service using vehicles owned by NK Trans Inc.All vehicles are equipped with digital tachographs and drive recorders, and we provide safe, secure and high-quality logistics services
Equipment overview
Business sites:TC3 Center, 7 sales offices
Number of services:300 / day (144 own cars, 156 cars)
Number of drivers:172
※All photos and equipment information are as of the end of March 2018