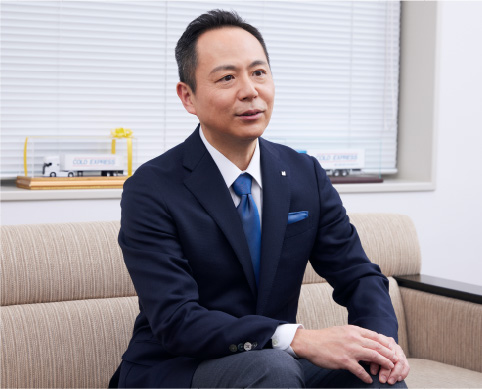 Representative Director, President
Nichirei Logistics group Inc.

Our history
Since it was founded over 75 years ago, Nichirei Logistics has continuously made changes in Japan's food logistics industry to meet the needs of clients and society. After having started business as an ice producer, we created a wide range of businesses, including warehousing business, combined transportation business, TC business and 3PL business. In recent years, we have built new multi-purpose logistics facilities in the port districts of the greater Tokyo and Osaka areas. Also we are focusing on offering logistics services globally.
Our goal
Guided by the mission of the Nichirei Group, to "Looking at people's lifestyles and provide true satisfaction," Nichirei Logistics Group is working to attain its goal, which is to provide logistics services that meet the needs of clients and society under our brand slogan, "To be the first choice of clients".
Nichirei Gropup's Mission
Nichirei Logistics Gropup's Mission