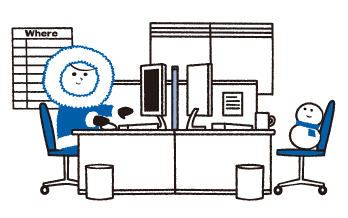 A secure IT platform to
ensure food safety, reliability
To optimize our temperature-controlled logistics services, we have set up original information systems and installed them at all Group logistics bases in Japan. Our core systems operate from aseismically isolated data center, ensuring that systems can be used andcommunications between logistics bases remain secure in the event of an emergency.
Group information systems
Information systems are an essential component of logistics.
We manage vital information securely with our highly efficient and reliable core systems, thereby ensuring that Nichirei Logistics Group can trustfully provide its wide range of services to optimize clients' logistics.
Lixxi (Logistics information-system 21)
Lixxi is the Nichirei Logistics Group's core system for warehousing, transportation, and information management. It links each of these operations for efficient logistics services. Lixxi also connects to billing systems and clients' electronic data interchange (EDI) systems, allowing administration to proceed efficiently and smoothly.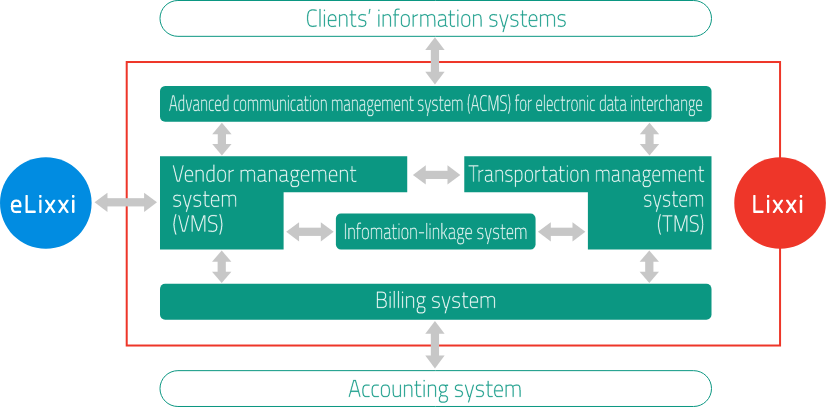 J-FRESH mobile terminals for TCs
J-FRESH is our handy terminal system for use at TCs, from which items are transported to retail stores and restaurants. The system allows staff to inspect intake cargo, sort goods, and verify loading details anywhere onsite.
Main system functions

eLixxi(Logistics management cloud service)
eLixxi is the SCM support system which allows you to access various information (receipt / delivery / inventory) of our warehouses in real time on the Internet.
It helps customers with different needs such as inventory optimization, shortage prevention, inventory loss reduction, quality maintenance, lead time shortening, etc.
Information service for customers


Efforts for Business continuity planning (BCP)
Our main information systems, including Lixxi and eLixxi, operate at a seismically isolated data center. The communications network for the system comprises main circuits and backup circuits provided by a different telecommunications carrier, both improving the redundancy of communications between logistics bases and system reliability. A cloud-based disaster recovery site has been built for Lixxi to ensure that operations can continue even during a major disaster.